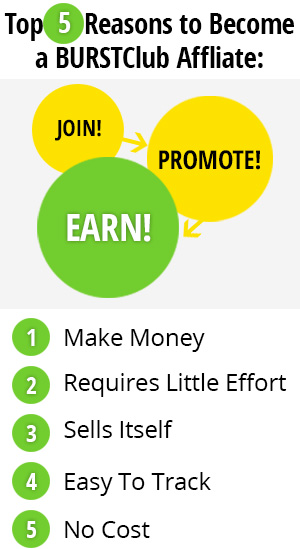 Promote BURSTClub to your website visitors, customers, or friends and earn commissions from anyone who joins! Simply fill out the form below and start earning commissions right away.
Free to Join & Promote
It's free to become a BURSTClub affiliate and promote to your network. In just a couple of minutes you will be on your way to accessing the BURSTClub Affiliate tools, images, and unique affiliate link which allows you to promote professionally.
You Don't Do Customer Support
BURSTClub's Support Team will deal directly with your referrals so there is no need to ever provide customer support to people who purchase from your affiliate link.
We Want to Partner with You
If you are a local school, non-profit, blog, cause, team, website, or social media guru with lots of raving fans then we want to partner with you. Fill out the form below and we will contact you ASAP.

Earn up to 30% Commissions
Promote BURSTClub on your blog, email, list, website, PPC, etc. and earn 30% commission! This includes our recurring memberships, which means your commission will keep recurring if your friends or contacts keep their membership active. Earn more instantly by promoting our annual plans. Commissions are paid to you via Paypal.
Track Your Earning Statistics
See exactly how many people have clicked your link and how much money you have earned.
One Affiliate Link for All Products
When you become an affiliate and start promoting you'll only need one link for all the products you can make money from.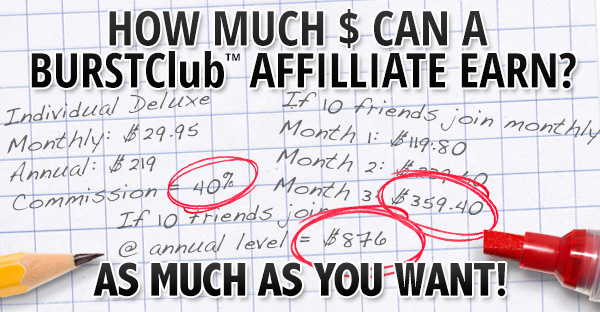 Sign Up For An Affiliate Account Here